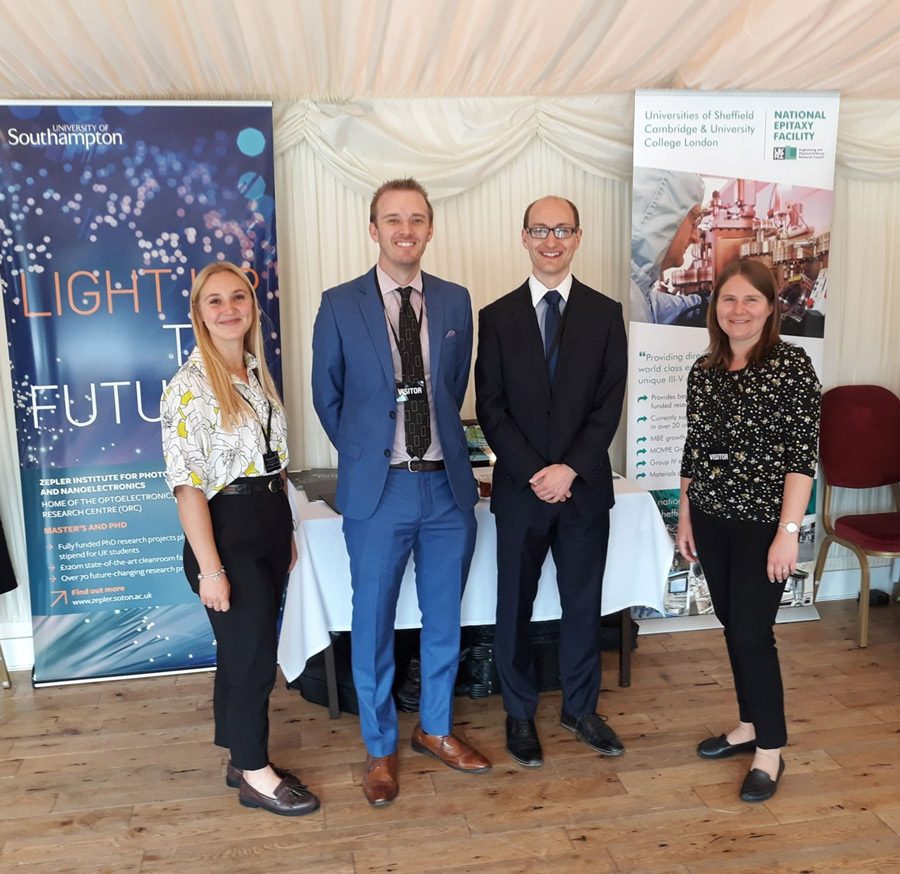 (From left to right: Alice Iles, Callum Littlejohns, Marcus Buechel, Zofia Bishop)
Taking photonics to Westminster
In July, representatives of the Future Photonics Hub, along with 24 other separate organisations, visited Westminster with the aim of improving government engagement with photonics. This event facilitated productive conversations with politicians, most notably MP Carol Monaghan, regarding the importance of photonics to the UK economy and the need for strong outreach programmes to encourage women into STEM.
The visit coincided with the political turmoil caused by a series of high-profile ministerial resignations. As a result, there were fewer MPs in attendance than was previously expected.
Those who did attend, however, engaged strongly. Members of Parliament took the time to learn about the value of the photonics industry to the UK economy and they made sure to speak to organisations within their own constituencies. This was an important development as 50% of those in attendance had not previously engaged with photonics. It was also indicated that the high quality of organisation and the technology on display would be relayed to George Freeman, the Science Minister.
Dave Richardson, a Co-Investigator of the Future Photonics Hub said: "It is rare to have the opportunity to engage in discussions with Members of Parliament and the House of Lords about the importance of photonics so I was delighted to be able to attend the Photonics Leadership Group briefing meeting at the Houses of Parliament and to spread the message over a cup of coffee and bacon sandwich! Ably assisted by my colleagues Alice Iles and Callum Littlejohns, we demonstrated the key role that photonics plays in the UK economy and in supporting our society. The role of the internet through the Covid-19 pandemic has certainly raised the profile of our community in these quarters and hopefully some further good will have come from our visit."
Another direction of conversation was centred around encouraging young women into STEM, specifically the field of photonics. Carol Monaghan, a former physics teacher who is now a Member of Parliament, had a particularly productive conversation with the Future Photonics Hub regarding the importance of increasing the pipeline of people – particularly women – coming into photonics.
Alice Iles, previously a PhD student at the Zepler Institute said: "Having spoken to Carol Monaghan, I am even more passionate about promoting women in STEM. In her career, she has seen little to no change to women entering the photonics industry. This change won't happen organically. Physics need to be actively encouraged to schoolgirls and young women and there needs to be optical modules available to students in order to promote women's engagement with photonics."