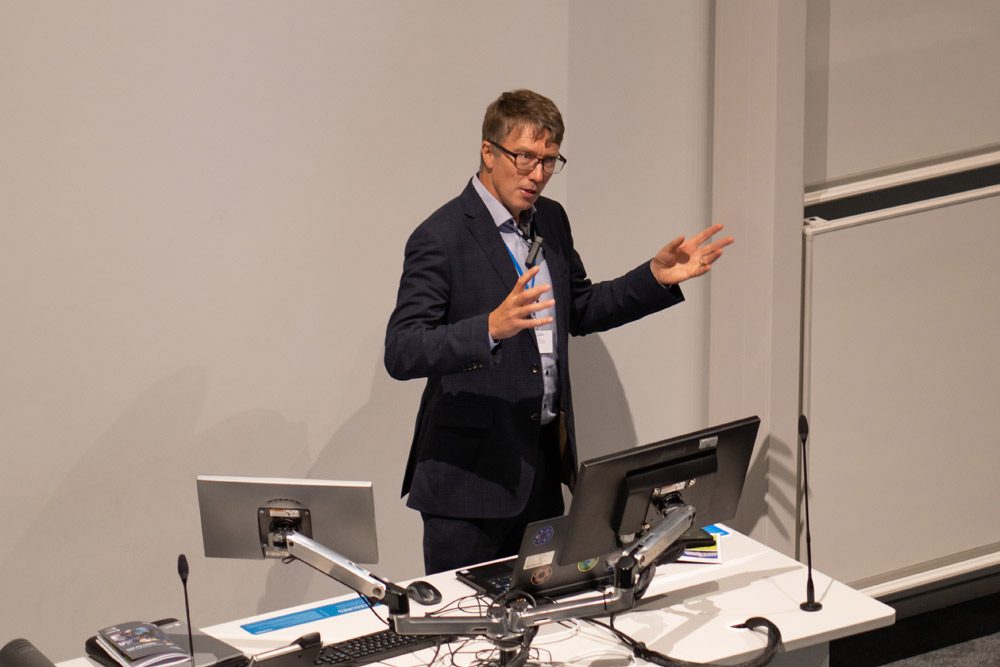 Shaping the future of photonics at the Hub Industry Day
The Future Photonics Hub's first Industry Day since the pandemic was a resounding success with nearly 150 delegates coming together to discover and influence the future of the photonics innovation landscape. 
Key representatives from academia, industry, government, and research and technology organisations, gathered to hear from the Hub's expert scientists about the important advances they have been making in photonics manufacturing research. These have been in areas such as optical fibres and lasers, mid-infrared photonics, silicon photonics and advanced materials.
The delegates were also part of a forum discussing the challenges and opportunities for UK photonics manufacturing and listened to a keynote presentation from Dr John Lincoln, CEO of the Photonics Leadership Group, focusing on Photonics for Net Zero – growth and opportunities in the post-COVID-19 era.
Hub Deputy Director and Manager Professor Gilberto Brambilla said: "The EPSRC-funded Future Photonics Hub Industry Day was an opportunity to help shape future research to the benefit of the UK economy in response to the government's Innovation Strategy where Electronics, Photonics and Quantum is highlighted as one of the seven technology families that are helping the UK maintain its status as a leading innovator in a highly competitive, high-value global market.
"We know the astonishing range of innovative ideas that emerge when industry and universities come together to think about manufacturing, and we recognise that scientific discovery is only part of the solution to a successful product."
The Industry Day featured a showcase of exhibits from photonics-related researchers and companies, that provided a great opportunity for delegates to network and explore collaborative working. There was also the chance to tour the Zepler Institute's world-leading cleanroom facilities.
Innovate UK's Iain Mauchline, Innovation Lead – Electronics, Sensors and Photonics, shared a range of exciting funding mechanisms for photonics as a key enabling technology for delivering strategic themes such as net zero and health and wellbeing. He also talked about the crucial importance of academia and industry working together to take new ideas from the lab into production at scale.
Hub Co-Investigator Professor David Richardson said: "The event was a unique opportunity to promote the excellent science base and outcomes emerging from the ongoing Hub programme to key external stakeholders. This will help to develop a pathway to manufacturing for next generation photonics technologies and realise the importance of photonics becoming an enabling technology in every field."
Zepler Institute Deputy Director Professor Graham Reed said: "It was fantastic to see so many of our friends and collaborators at the Future Photonics Hub event. I look forward to working with them on some of the interesting future projects that we discussed." 
The Hub helps industry access the latest photonics innovation by engaging with a large network of external companies. It provides access to leading researchers who spend time understanding the challenges they face and where next-generation photonics can have impact on their organisation.